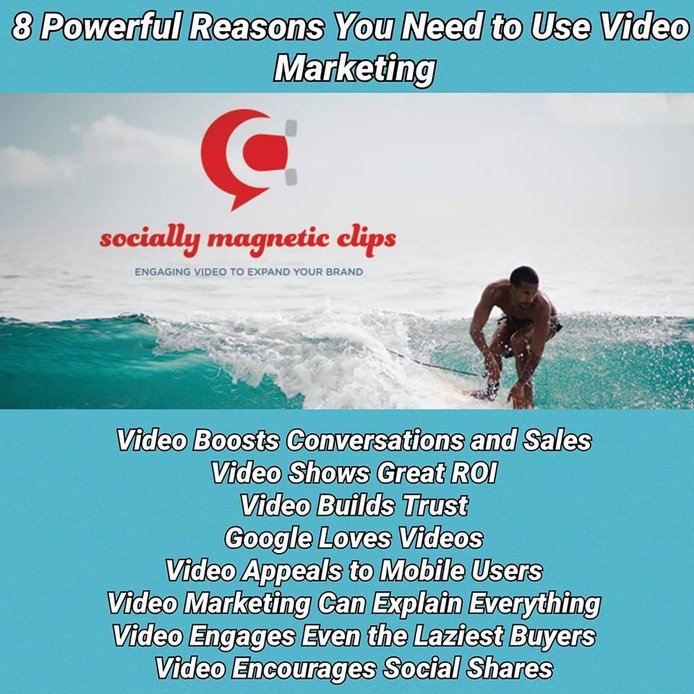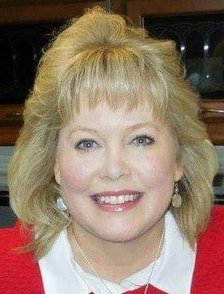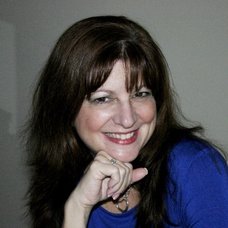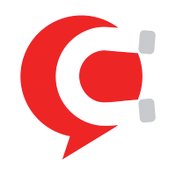 WELCOME TO SOCIALLY MAGNETIC CLIPS
OUR VIDEO CLIPS PORTFOLIO
7 IMPORTANT TIPS FOR GETTING THE MOST ENGAGEMENT FROM YOUR VIDEOS
Thank you for choosing Socially Magnetic Clips to engage your prospects and customers online. We appreciate the opportunity to create innovate videos that capture your personality, message, and brand - which is why we want to share five important tips for getting the most engagement from them.
1. Commit to Constant Sharing - even the most compelling video won't attract a new customer or client if they don't know it exists. Never assume that just because you shared it once on each of your social media platforms that you've saturated the market. Constant sharing is a must...in the proper rotation, of course. You don't want to keep posting the same video over and over, without anything else in-between, for example, an article you found online or your latest blog post that speaks to an issue your customer cares about. The point is to share them multiple times on a daily basis. If we've created more than one video for you, consider rolling them out over time. Of course, any time-sensitive videos, e.g. centered around a holiday or a specific offer/discount/event, etc. should be promoted within the proper time-frame.
2. Use Hashtags - simply put, hashtags act as a sort of online "file folder" where people can find information relevant to that topic. For example, if someone wants to buy or sell a home, they'll look for hashtags like #Realtor, #RealEstate, #RealEstateBroker, etc. Certain social media platforms like Twitter, Instagram, and LinkedIn use hashtags, though they are not as prominent on Facebook. Depending on your business or service, there's a nearly unlimited supply of hashtags available to you, and we recommend using different ones each time you publish a post to attract as many potential customers as possible. So, even if you're sharing the same video, you can use different hashtags each time to reach more people.
3. Schedule Posts with a Social Media Management Tool - social media management tools like HootSuite make is easy to schedule your posts to alternate content and avoid posting the same information repetitively. For more information, read eClincher's article, Top 10 Social Media Management Tools.
4. Share Your Video(s) with Your Email List - if you email a newsletter on a regular basis to your email list, be sure to include your latest video with each one. It's important to engage your existing customers to keep them coming back and recommending your business or service to their friends.
5. Embed Your Video(s) on Your Website - Google, the #1 search engine on the internet, loves videos. If you want to improve your rankings and achieve better SEO (search engine optimization) to make it easier for your prospects to find you online, do yourself a favor: embed your video(s) on your website. Socially Magnetic Clips adds your video(s) to our YouTube channel, so all you have to do is click on the share button, then copy and paste the embed (HTML) code on your site. If you have a webmaster, he or she can easily do this for you.
6. Pin Your Video to the Top of Your Professional Page(s) - Pinning a video to the top of your page helps attract more attention to it. If you have a professional/business page on Facebook and LinkedIn, you can pin your video to the top after posting it by clicking on the three dots to the top right. Several options will appear, including "Pin this post to the top of the page." Select that to pin your video. On Twitter, you can pin a post to your personal and/or business profile by clicking on the drop-down arrow and selecting "Pin to your profile page." On Instagram, "highlights" are the equivalent to pinning, but your post must first be a "story." Select story, upload video, then wait for it to post. Next, click on highlights on your profile/business page, then choose your video from the stories. Instagram will only allow you to pin a video from your stories. Note: stories are live for 24 hours; highlights remain posted until you take them down.
7. Include Share Icons/Buttons on Your Website/Blog - If you run your own website/blog or use the services of a professional, be sure to include share icons/buttons to make it super easy for your readers to share your videos. For more information, click here and scroll down to #11.
Very professional and creative background in branding you, your book or your business. I would definitely trust them for future work as I work on my second book! Amazing company to work with!
R. Lisa Smoak, Melbourne, FL
Let us save you time!
Get 24/7 Engagement Without Spending 24/7 on Social Media
Socially Magnetic Clips helps you expand your brand and influence by harnessing the power of professional video clips, customized to your unique business and customer base. Stay well-positioned in the social media marketplace with creative, 15-second clips that attract attention and capture the essence of your product or service. We can adapt video clips for all occasions, holidays, specials, offers, and promotions. An excellent advertising tool, video clips reach your target audience throughout the year and keep you foremost in your customer's mind...while you focus on doing what you do best.
In today's high-tech world, social media marketing has replaced direct mail as the most effective way to stay in touch with your customers and prospects. But what if you're a busy professional with a business to run? What if you don't have a ton of time for online marketing?
That's where we come in.
After a brief consultation to learn more about you, your products or services, and your ideal customer, we craft customized 15-second video clips that inform, entertain, and pique your audience's interest in what you have to offer, utilizing the power of your personality to attract your people and earn their trust. Whether you prefer to inject humor, keep it serious, or infuse a high-energy vibe, your 15-second video clips will engage your prospects and transform them into happy customers...while retaining the loyalty of your existing customers.
While we can create one video at a time, in our experience, the more unique videos you can share over a period of time, the more you'll expand your brand and influence, along with your customer base. That's why we offer affordable packages designed to save you money while creating more value for you and the people you serve.
Find out why a professional, customized video clip is the best 15-second business card you'll ever need!
Contact Socially Magnetic Clips to get started today.
Tiffany DeGrandis, Founder and President
Daria Anne DiGiovanni, Vice-President
Tiffany DeGrandis and husband Rob DeGrandis own and manage DeGrandis Automotive Center, Inc, established in 2001. As Director of Finance and Marketing for the Malvern PA-based automotive repair and service company, Tiffany directly oversees the company's financial goals and objectives. She is also responsible for all aspects of human resources management. With a keen eye for digital marketing and advertising, Tiffany creates and executes innovative online marketing campaigns that have resulted in higher visibility online, greater customer engagement and loyalty, and a significant increase in new customers to the company.
In 2018, she discovered the power of 15-second video clips when she began to incorporate them into DeGrandis Automotive social media marketing efforts. Based on their immediate success in attracting and retaining customers, and the positive feedback she received from the business community, Tiffany launched Socially Magnetic Clips in January 2019. Her ability to capture the personality of the business-owner and the essence of their product or service in a short, entertaining and informative video clip ensures success for anyone who works with her. From landscapers to caterers to indie authors to realtors, Tiffany understands how to engage an audience using the hottest tool in online advertising.
Copywriter, independent publishing consultant, and internet radio host Daria Anne DiGiovanni owns and managers a full-service, independent publishing consultancy that provides comprehensive publishing packages for busy professionals who understand that their book is their brand and their business. Drawing on her extensive background in marketing and corporate communications, she writes persuasive, engaging copy and helps her clients navigate the complex world of writing and publishing with ease and efficiency. She is thrilled to add Socially Magnetic Clips to her service offerings to help entrepreneurs, indie authors, and business-owners expand their brand and influence and generate multiple streams of income.
The best 15 second business card that you will ever need!
Engaging video to expand your brand!
The perfect clip that catches your attention and holds it by incorporating forward thinking, music and pleasant images. The short clips are an awesome commercial for whatever you're marketing. I am definitely recommending this style of advertisement. #SnobbyGirl
Maureen Miles Bucci, Glen Mills, PA
I wish to thank Socially Magnetic Clips for creating the amazing video they did for me and my book, " The Kitchen Alchemist : How I became My own Food Scientist So My Kids Could Thrive With Anaphylactic Food Allergies." I was in awe of the perfect but clear message brought across through this video. I will certainly be using their services again for future promotions. It certainly is a magical way to distribute the message of your business. Thank you again.
Frances Castelli, Reno, NV
sociallymagneticclips@gmail.com
This is a paragraph. Double-click to edit. This is a paragraph. Double-click to edit.
ABOUT
SOCIALLY MAGNETIC CLIPS
DISCUSS YOUR PROJECT WITH US!